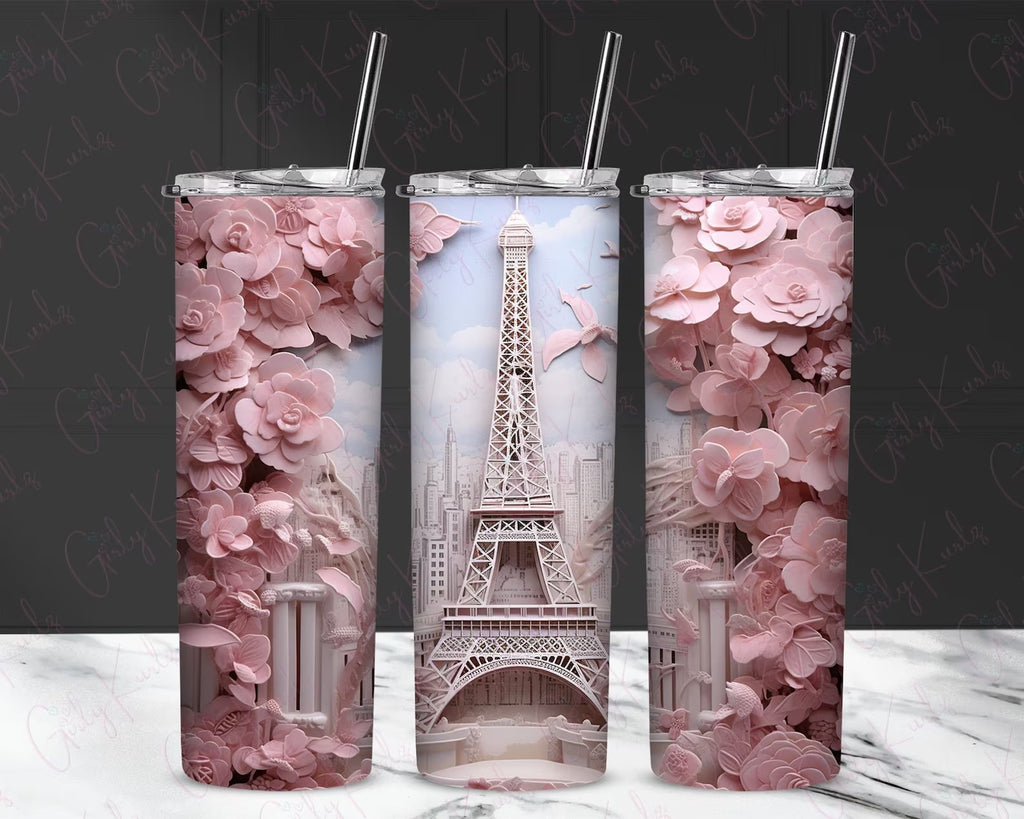 Girly Kurlz
Eiffel Tower Tumbler
Elevate your daily sips with our "Eiffel Tower Tumbler" – a chic and practical accessory that brings a touch of Parisian elegance to your beverage routine.

Make every sip a journey to the City of Love with our beautifully crafted tumbler. Its stunning Eiffel Tower illustration captures the allure and romance of Paris, making it a must-have for for you! Whether you're savoring your morning coffee or staying refreshed with iced tea, this tumbler adds a touch of sophistication to your drinkware collection.

Constructed from high-quality, eco-friendly materials, our Eiffel Tower Tumbler is built to last, reducing waste and promoting sustainability. The spill-proof lid ensures a mess-free experience, making it an excellent choice for commuters, students, or anyone on the go.

This tumbler also makes for a thoughtful and unique gift for friends, family, or anyone with a passion for Paris. It's a stylish reminder of the city's timeless charm and iconic landmarks.

Indulge in a daily dose of Parisian elegance – order your "Eiffel Tower Tumbler" today and sip in style. Whether you're dreaming of a future trip to the French capital or simply appreciating its beauty from afar, this tumbler is your ticket to a little piece of Paris, wherever you are.

💜 High-Quality Materials: Our tumbler is made from premium, food-grade stainless steel that's both durable and rust-resistant, ensuring it lasts for years to come.

💜 Spill-Resistant Lid: The tumbler comes with a secure, spill-resistant lid, making it ideal for on-the-go use. No more worrying about coffee spills during your morning commute!

💜 Perfect Size: With a 20oz capacity, it's just the right size to hold your favorite coffee drinks, from espressos to lattes.

💜 Easy to Clean: The tumbler is easy to disassemble and clean, ensuring that your coffee always tastes fresh and delicious (handwash only and no microwave).

💜 Great Gift Idea: Whether you're treating yourself or looking for a thoughtful gift for a coffee-loving friend, this tumbler makes for an excellent choice.

💜 On-the-go Insulation: Keep your beverages at your ideal temperature with our double-layered, vacuum-insulated, food-grade, 304-stainless-steel tumbler. The push-button lid avoids leaks and dirt. Perfect for enjoying hot or cold drinks on the go.

*Each comes with lid, straw, brush, and silicone pad. A special gift for your loved ones.

**Please note that each tumbler is individually handcrafted, so slight variations in color and design may occur, making your tumbler truly one-of-a-kind. Thank you for supporting our small artisan business!
---
Share this Product
---
More from this collection