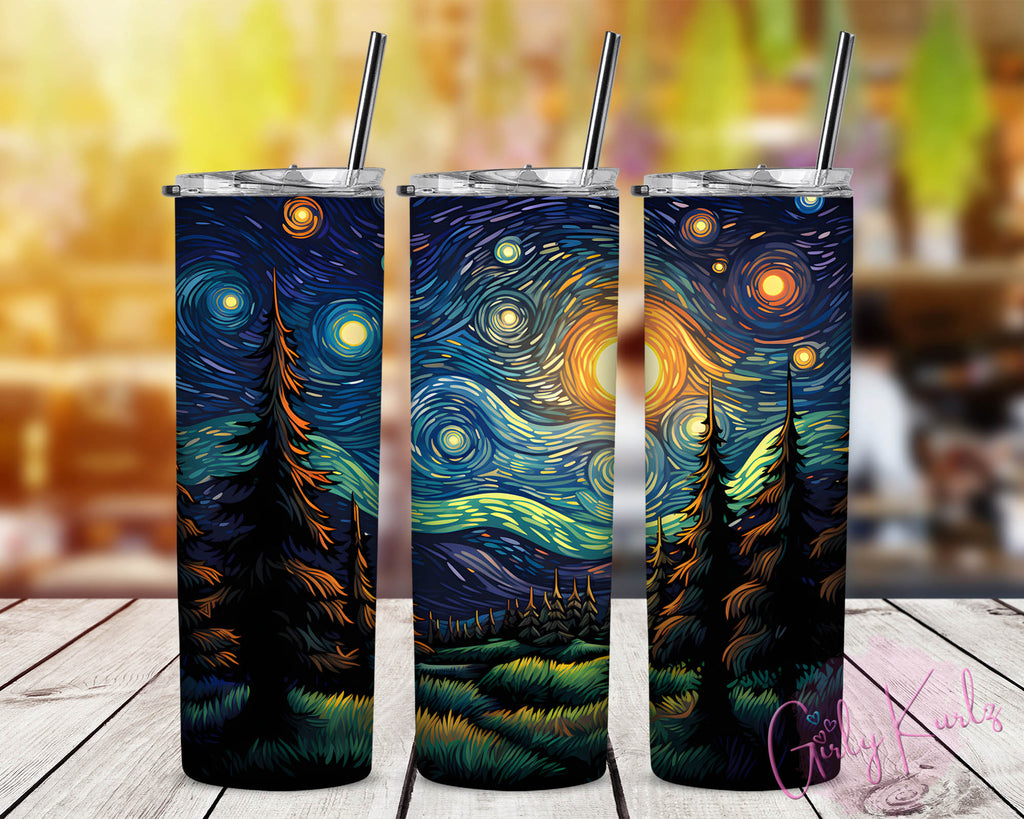 Girly Kurlz
Van Gogh "Starry Nights" Tumbler
Introducing our exquisite "Van Gogh Starry Nights" Tumbler, a 20oz masterpiece that combines art and functionality in one beautifully crafted piece. This tumbler is more than just a drinkware item; it's a work of art that allows you to carry the magic of Vincent van Gogh's iconic "Starry Night" with you wherever you go.

🌌 The Artistry: This tumbler features a vivid and mesmerizing reproduction of Vincent van Gogh's "Starry Night" masterpiece. The swirling, star-studded night sky, the majestic cypress tree, and the enchanting village come to life in intricate detail, evoking the emotions and wonder that the original painting has stirred for generations.

🌟 Durable and Eco-Friendly: The tumbler is built to last, with a durable, rust-resistant design that is both easy to clean and environmentally friendly. It's a sustainable alternative to disposable cups, contributing to a greener planet while celebrating a timeless masterpiece.

🎁 The Perfect Gift: Whether you're an art lover or you know someone who is, this tumbler makes for a thoughtful and meaningful gift. It's perfect for art enthusiasts, coffee connoisseurs, or anyone who appreciates the fusion of art and everyday life.

🌿 Carefully Packaged: Your tumbler will be meticulously packed to ensure it arrives in pristine condition, ready to make a statement in your daily routine.

🏞️ Escape into "Starry Night" with Every Sip: With our "Van Gogh Starry Nights" Tumbler, you can immerse yourself in the magic of one of the most celebrated artworks in history while enjoying your favorite drinks. Whether you're on the go or relaxing at home, this tumbler is your ticket to an artistic escape.

Indulge in the beauty of "Starry Night" with this unique tumbler – functional, artistic, and a true masterpiece in itself. Order yours today and make every sip an artistic experience!

💜 High-Quality Materials: Our tumbler is made from premium, food-grade stainless steel that's both durable and rust-resistant, ensuring it lasts for years to come.

💜 Spill-Resistant Lid: The tumbler comes with a secure, spill-resistant lid, making it ideal for on-the-go use. No more worrying about coffee spills during your morning commute!

💜 Perfect Size: With a 20oz capacity, it's just the right size to hold your favorite coffee drinks, from espressos to lattes.

💜 Easy to Clean: The tumbler is easy to disassemble and clean, ensuring that your coffee always tastes fresh and delicious (handwash only and no microwave).

💜 Great Gift Idea: Whether you're treating yourself or looking for a thoughtful gift for a coffee-loving friend, this tumbler makes for an excellent choice.

💜 On-the-go Insulation: Keep your beverages at your ideal temperature with our double-layered, vacuum-insulated, food-grade, 304-stainless-steel tumbler. The push-button lid avoids leaks and dirt. Perfect for enjoying hot or cold drinks on the go.

*Each comes with lid, straw, brush, and silicone pad. A special gift for your loved ones.

**Please note that each tumbler is individually handcrafted, so slight variations in color and design may occur, making your tumbler truly one-of-a-kind. Thank you for supporting our small artisan business!
---
Share this Product
---
More from this collection